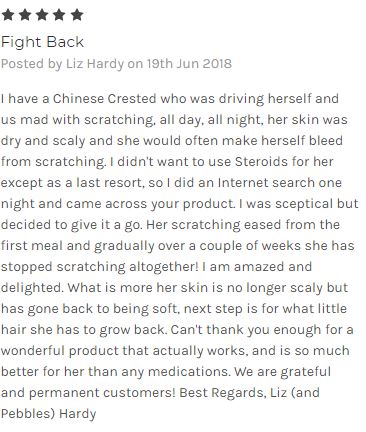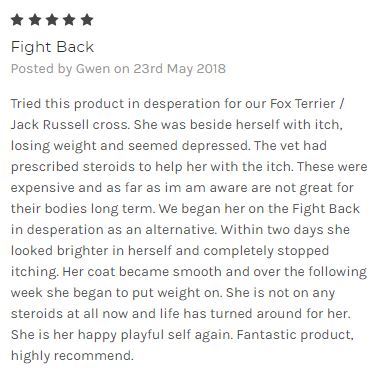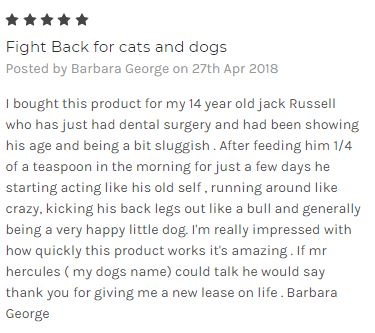 Fight Back is a powerful immune system support supplement designed to help natural immune function.
Powerful support for the immune system helps enable a strong immune response when animals are challenged by infections or allergens. Fight Back is best fed daily when used to target an existing issue. For best results, feed Fight Back for a minimum of 7-10 days. Most will see results within days; however, this will depend on the severity of the condition.
Application rate:
Please use the teaspoon enclosed.
​Add once a day to pre-moistened feed:
10kg dog - 0.5 teaspoons
20kg dog - 1.0 teaspoons
​30kg dog - 1.5 teaspoons
Storage:
Store in a cool, dry place. Keep out of reach of children.
Shelf life:
12 months from DOM

Ingredients:
Yeast extracts* and powerful antioxidants
* Some people ask us what is meant by "Yeast extracts". They are the key concentrated nutrients required for cell division and can easily run short in modern diets, especially when an animal is injured or under attack from infective organisms or allergens. An inability to produce billions of new cells rapidly impairs the natural healing or immunity responses (primarily the production of white blood cells). So Fight Back is designed to enable these functions to be carried out as nature intended.
We recognise that some animals are allergic to some of the components of yeast products. We are not aware of any negative allergic reactions to Fight Back and yet we have lots of feedback about the positive effect keeping animals allergy free. However owners of yeast intolerant animals are advised to introduce Fight Back slowly.

The key nutrients we use are routinely incorporated into products designed for young animals and indeed have been used in human milk replacing powders for over 20 years.

If you do not wish to feed your pet anything that you cannot identify precisely then we respect your right not to buy Fight Back. Due to the time and resource we have spent in developing this product, we are keen to keep our recipe secret. Please respect our right to maintaining our hard earned trade secrets, which incentivises us to invest in R&D and product development.
Great stuff cleared up my dog's belly no problem

Great product

Fight Back For Cats & Dogs

Absolutely fantastic, has helped my 11 year dog so much. I'm extremely grateful that Equifeast have product!

My dogs coat has become very soft and shiny

Been using fight back on my dog and wow this stuff does work he had red belly and with in three day all the inflamed erea had calmed down and he wasn't scratching anymore i rate this product a 10 out of 10 and will keep using it cheers rossco

We have a 18 month old labrador who as of about 8 weeks ago developed terrible skin irritaions and infections. i tried a couple of courses of anti biotics and seriods with no long term effect. Murpht has now been on Fight Back for 4 days and i can see a difference already. He is not scrathing as much, his skin looks clearer and most importantly his ears are 'cooler' to touch. Im about to place my second order so we can continue the good work so far.

Love this product. Just under a teaspoon a day helps to combat my highly allergic staffies constant itching. Highly recommend.

Older dog boarder collie x terrier x ?. Extremely itchy for last 8 months. Vet wanted her on steroids but I wasn't happy with that. Tried grain free diet for 4 months, no change. Started her on Fight Back last Christmas. Within 2 weeks she stopped ch

Recommend everyone try it if you have an itchy dog.

This product is fantastic, my dogs have been on it for 3 weeks and it has made a huge difference to their health. No more itching and one who was having ear problems has now got clean healthy ears. I highly recommend this product to any dog owner who has any allergy problems, believe me it works and the dogs absolutely love the taste of Fight back. Thanks EquiFeast for making a fabulous products

No more red paws and face

I have a french bulldog that always has red paws and a red face. We tried everything to clear it up, vet visits, change of diet, feet soaking and face washing daily. I saw a post about fightback and thought i will try it as a last resort before putting her on an allergy injection. I could not believe that within 2 weeks her paws were no longer red, she had stopped chewing them and her face had completely cleared up. I have stopped washing her paws and feet daily which i thought would be our routine forever. She is also alot happier, and so am I. I cannot rate this product high enough.